Final Thoughts on my Watson Year
The day before coming to the culminating Watson Conference, I reread my personal statement and proposal. Sitting exactly 365 days from the day I left LA for my Watson year. It was all a very distant dream – the proposal, how I applied, my hopes, I really had no comprehension of the full extent of the undertaking I so giddily signed up for. How little I knew that imagining and proposing it would be so different from living and breathing it.

I've learned inexplicable things over this year. My mom says I've changed. I feel like the same person, young and wide-eyed, still as curious, but maybe one thing I'd always known is that one can't come back from a journey like this past year, unchanged.

I've always been a trusting person, perhaps far too much some say, but I come back now even more in awe of the overall human-goodness of the world. With every venture, I see that even though we are citizens of different places, have starkly different political climates, and customs - we are all human. We believe in the same basic things - family (by blood or belonging), making our individual lives meaningful, and sometimes a belief in something greater than ourselves.

Specifically, I began this Watson with the intention to better understand my own place in the art world. I knew that the communities with whom I felt (and continue to feel) the most engaged are with the creatives. In New Zealand a curator, Balamohan Shingade, said to me, art is a belief-system. As art 'appreciators,' (a term I find too light) we put faith into the artist or art work. We are 'believers' who allow ourselves to be open to a paradigm where we can recalibrate our original ways of seeing and thinking in order to approach life/subjects in a new way.

Over the years my art world interests have settled into a strong passion to facilitate: I. performance, II. collaboration, and III. international dialogue. I am so grateful to say that I experienced all three of these components in the richest, most fascinating, and engrossing ways. I am, however, deeply cognizant that my comprehension of these factors, is a lifelong endeavor.
I. Performance:

Although it was my original intention to work just with performance artists for my project, my process ended up depending solely on the openness and willingness of the artist to work with me. Out of that, the idea of performance essentially became that of looking at the life of an artist as a performance. From painters, to sculptors, DJs and photographers, their lives as artists is performed, their art disciplines inseparable from their everyday life. They live as artists.
II. Collaboration:

I have garnered a specific interest in ephemeral work that results in a single shared experience. My belief is that upon the first encounter of a work, one should feel a connection to the moment in time and space, to oneself, and to those around them – whether they enjoy the piece or not, the moment should be memorable. For me, art is a collaboration between artist and audience, whether one conceives of the other at the time of making or at the time of reception, that is how, together between the work and receiver, the art exists.
III. International Dialogue:

I feel so much more connected to the rest of the globe and have never felt so strongly about the US becoming awfully insular. To be completely honest, it was not until the Watson year that I truly cared about news coverage outside of the US. Now, with my CNN app deleted and a BBC app replacing it, I continue to read up on the political and environmental affairs concerning 'Latin America,' 'Europe,' and 'Asia.' After visiting countries within each category I experienced how the people, my friends, were directly being affected. I approached my project with the initial opinion that globalization was good for the world and people, supporting this idea with notions of cross-cultural exchange, exploration of collective histories, and technological advancement. I preferred globalism over what I saw as the smallness of localism. Now, I end my year feeling extremely differently. I think the best way to describe my feeling would be through a work I encountered at the Nam June Paik Art Centre in South Korea by Japanese artist Aida Makota.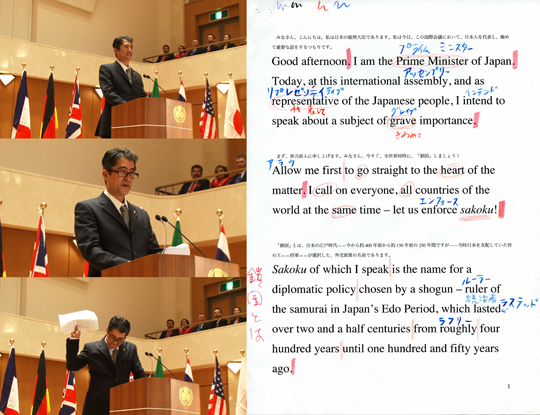 In the video work of his performance, Makota appears as the Japanese prime minister pleading in fragmented English for other countries to follow the system of sakoku - the closing off of the foreign trade and diplomatic relations that Japan followed during the Edo period. In his speech, he alludes to the positive side of cultural preservation and purity, which for the first time, I saw the beauty in. As an Indian American I remember how the words "modernization" and "Westernization" were used interchangeably when referring to the evolution of India. Is the modernization of a place good if what comes with it are Western notions of capitalism, hierarchy, and individualism that perhaps erase ancient traditions of collectivity, respect towards nature, and humility? After visiting countries with varying gradations of post-colonialism (Brazil, NZ, Australia, HK) and issues of inclusion and exclusion in the EU (Greece, UK), I have learned that indigenous histories and art are, and should be, meaningful to contemporary societies. My experience in South Korea and Japan was different to the other countries I visited because they were not colonies in the past. In Makota's words regarding HK audiences versus Japanese ones, he says, "Hong Kong is like Japan, insofar as it is part of Asia, but it is also very unlike Japan, in that it is very international and used to be a British colony, and English is the official language here—so this work is perhaps different from what I would show to a Japanese audience - because Japan has never been a colony. It has never been a European country, and it is interesting because usually if a country hasn't being colonised, it is a blessing. However, if you have never become a colony, it also means you are not very international. So actually which is better: becoming a colony or not becoming a colony?"[1]
Before and during my Watson my experiences have involved underrepresented artists, indigenous voices, feminist perspectives, collective histories, and body art. My interest in the "self" entangled "with others" in my own art production directly influences my plans post-Watson. I am excited to share that I will moving to Mumbai to be a Program Assistant for Asia Society. For me, this move is not just to gain professional experience within a global organization I am inspired by, it is also a chance to learn more about my heritage and country of origin in a personal and direct way.
All in all, I love that I have been encouraged to believe this Watson-effect will last throughout my life and I will draw back to the experience forever. I am invigorated, moved, stimulated by my fellow Watson Fellows and I move forward now with a new sense of confidence that I didn't embrace before. It's a special thing to say to myself "you have just completed a Watson Fellowship year conducting a self-directed, independent contemporary art research project surrounding themes of community and spaces of encounter in nine countries". I did this as a once-sheltered, young, suburbanite, woman. Now, I can sincerely state that I want to be a part of a space that fosters an inviting and supportive environment for creation and experimentation in a fixed location (even if temporarily). Words cannot express how enriched I am to have spent time with artists, the Watson Team and Fellows, and all the people I encountered. I will forever cherish their welcomes, the space I shared with individuals I met along the way, and the expectationless-kindess and wide open feeling I will carry with me for this beautiful world I call home.
I am so grateful & Thank you.